Data Quality Management
Data Quality Management (DQM) is a key component of delivering successful MDM. You can't understand the costs and impacts of poor data quality on your business until you can see it and measure it.
Standards are required so you have a business-defined quality target to measure against. Data is no longer locked away in individual systems and databases but made available and transparent for measurement and review. Data content is profiled and analysed to identify problems. Business roles are established to ensure the problems are formally captured and fixed.
Phusis helps our clients develop an immediate DQM capability through the use of our service offering alongside the development of in-house skills and technologies for long term, business-as-usual capability.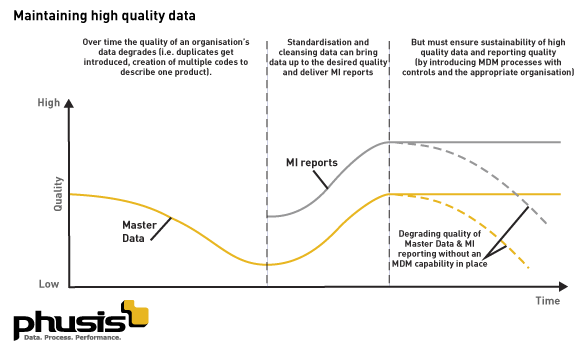 Case Study
An international FMCG organisation is undertaking a major business transformation programme. Phusis MDM consulting and DQM service deployment is helping the global business community to cleanse and subsequently sustain on a business-as-usual basis the quality of 50 key data objects such as product, customer, vendor and chart of accounts.
Phusis is a data-centric, business solutions company. We help our clients improve the quality and value of their data assets for measurable business benefit. We bring together expert teams to deliver business-led solutions for a wide range of organisations.
We have been in business since 1987 and based in the City of London since 1998. The reason we can deliver real business value through our solutions is simple - our excellent consultants.
We're always happy to hear your comments, questions or enquires.
You can email us at:
service@phusis.co.uk